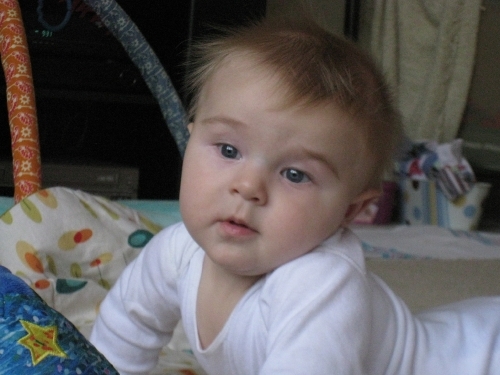 Linus is now 6 months old. Here's an update:
Weight: 18# 12oz
Height: 26″
Head: 17 1/8″
Linus is doing great. He's rolling over both ways and he's starting to rock backwards up on his knees. He's meeting all his milestones and, as you can see by his growth, he's clearly thriving. He sees a developmental therapist once a week, and she thinks he's sharp as a tack and very strong. Everyone agrees that he's the happiest little fella. One girl said "He smiles with his whole face." He is just as cute and sweet as they come. He loves, loves, loves his big brother, and will always watch him if he's in the room. And he loves his mommy and daddy, too.
He shows no sign of getting teeth any time soon. We've started solids and I think he's slowly warming up to the idea. He eats about 6 times a day (bottles or nursing) and we've managed so far not to supplement my milk supply. He is sleeping from around 8 PM to 6 AM, though it's still not that consistent. He makes good dinosaur noises and coos.
Four Month Stats (7/20/2010)
Weight: 16# 14oz
Height: 25 3/4″
Head: 16 1/2″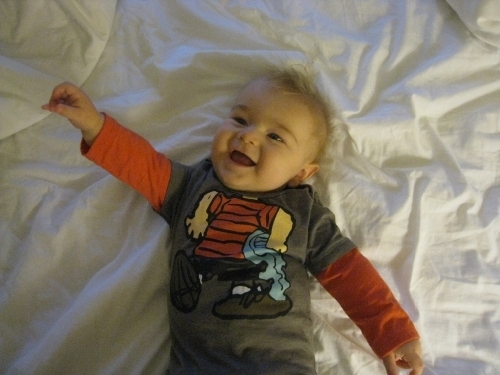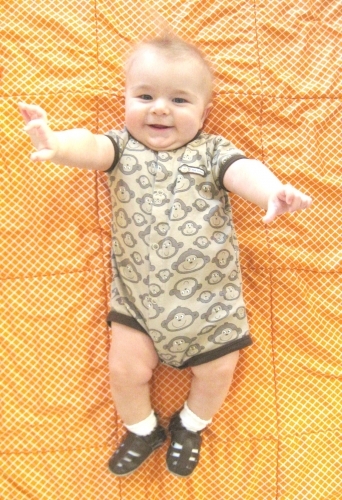 Ten more pictures after the break!
Read the rest of this entry »