You are currently browsing the archive for the Alba category.
A picture for my Albita of a hat she gave me.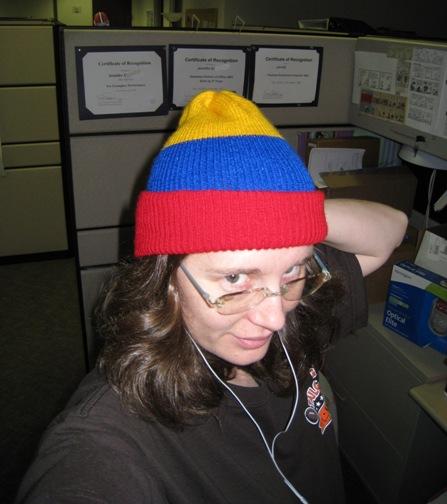 We've started getting baby gifts!
This is the first gift we got for the baby, from a co-worker. She took great pains to say the name several times – it sounds funny!!
It's a lovely, soft blanket in bright colors from IKEA. Yay!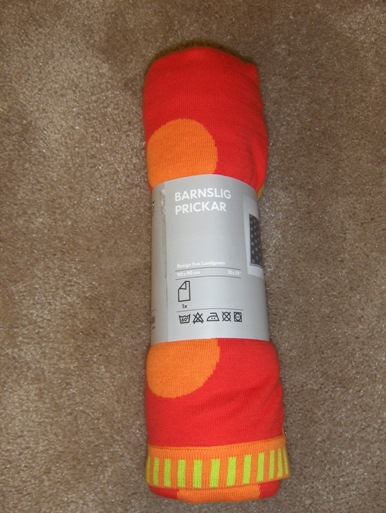 Then Cristin gave me Toby socks!!!!! What can I even say? LOVES!!!!!!!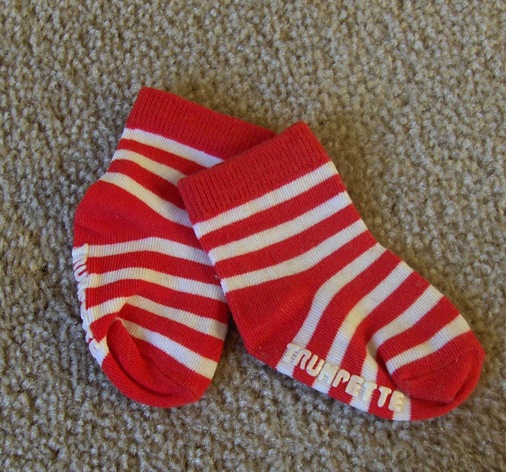 And my friend Alba sent me this adorable fleece poncho from Colombia, along with some soft fuzzy socks for me and coffee for Dave. She thought of the whole family, I'm impressed!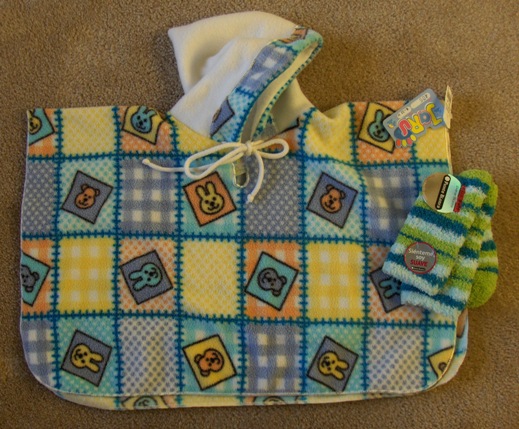 And last, but totally not least, is this ADORABLE sock-cat from Ali. 1) Whoever thought to make a sock-monkey in cat form was SMRT. 2) I think someone's going to have to start giving me synonyms for "adorable" at some point in the near future.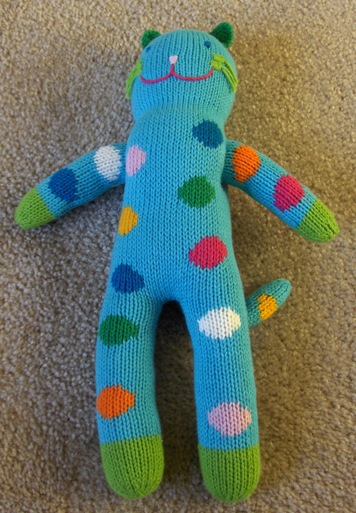 Thank you all!!!!
I've compiled some of my favorite pictures from my trip to England.
The Tower Bridge (look familiar?)

Bill, my and Alba's host in Cambridge, who indulged me an an hour-long conversation about my favorite British TV shows

A much deserved beer at the end of a long day of biking around Cambridge


How much I adore a decent half-pint!
My tower of coasters

Self-portrait at Picadilly Circus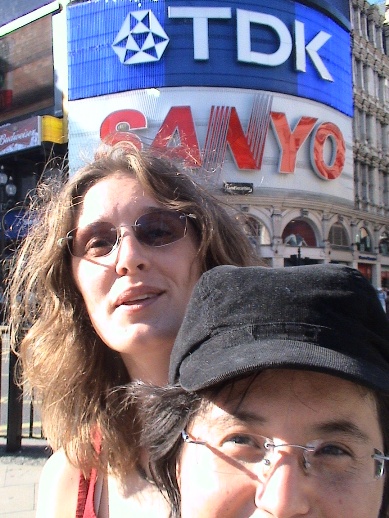 Getting attacked by a street performer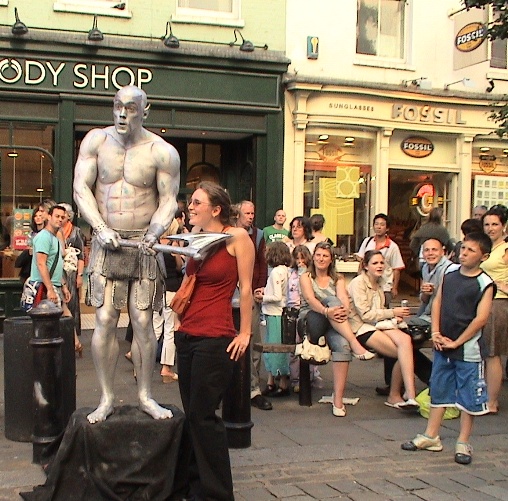 Lovely shadowplay on the Houses of Parliament (courtesy of Alba)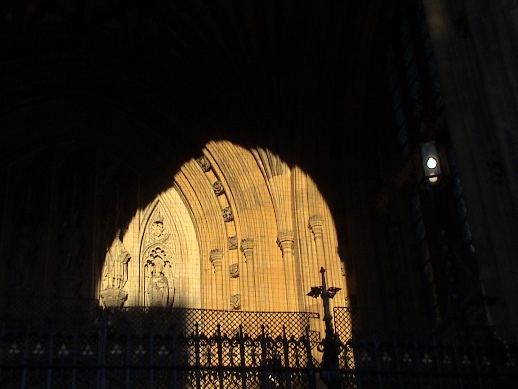 Self-portrait in front of the Tower Bridge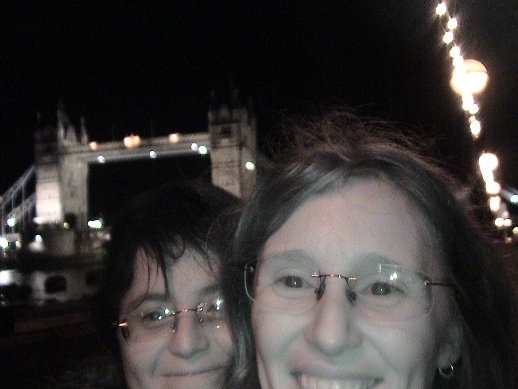 An alley cat I made nice with in a pub in Harrow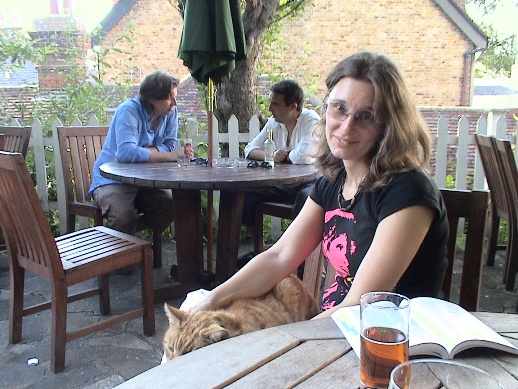 See the guy in the back, on the right? Later that day, he gave me his match ticket from the match that had played that day in Wembley Stadium – what a lovely souvenier!
The only rain I saw during my whole trip was as I was about to board the plane home 🙂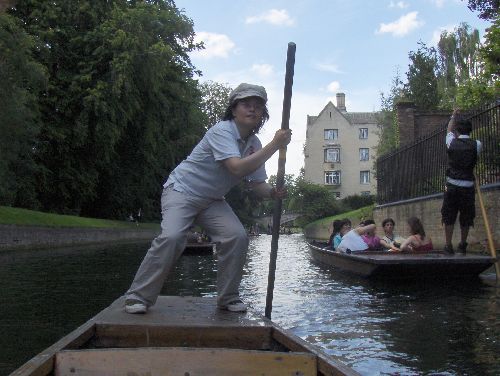 While Alba and I were in Cambridge, we toured several of the Colleges of Cambridge, including St. John's, Trinity, Kings', Queens', and Clare College.
A very fun thing to do in Cambridge is to punt down the river. We couldn't have asked for better weather. It was sunny, mid-70s and simply gorgeous. Alba rented a punt from her alma mater, Clare, and punted us the whole way. The river was quite crowded.
Alba did such a good job! It's a rather difficult thing to do. According the the guide book, "no one else knows what they're doing, either." You can hire professionals to guide you down the river, but what's the fun in that?
It was wonderful to be in the boat, gently rocking, feeling warm under the sun and getting to take in all the sights along the Cambridge River. I could have fallen asleep, laying there.
The Bridge of Sighs (St. John's College)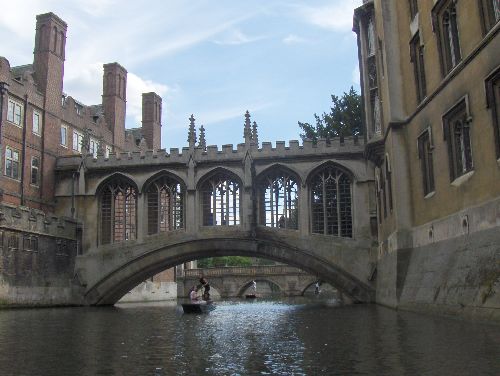 Trinity or Kings' College Bridge?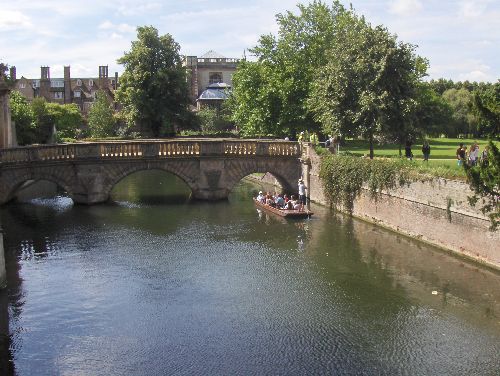 A Pirate Punt!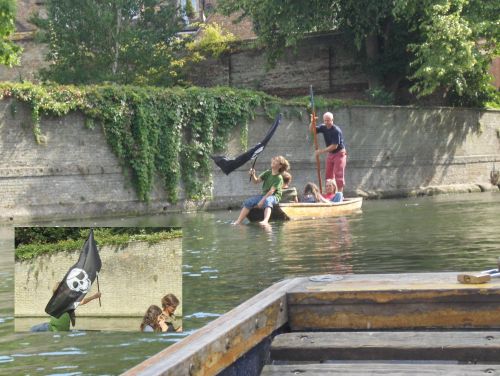 For MFA…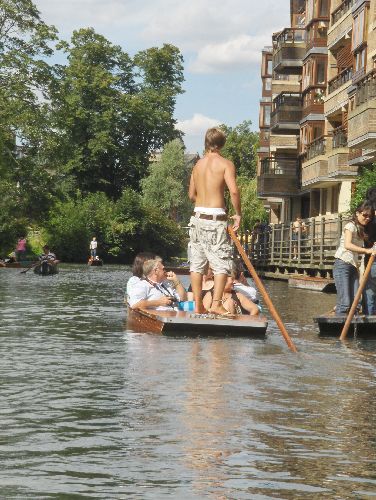 Proof that you shouldn't do Sudoku, even a gentle one, at 6 AM when you've had only four hours of sleep.

The inflight status tracker was very accurate, including the two circles we made to kill time because we arrived early.


Thursday night, I arrived around 8 PM and caught the 2 1/2 hour coach up to Cambridge. Alba met me at the bus station and we took a cab home. Then we went to sleep!
Friday morning, she made me a lovely breakfast with coffee, fresh fruit and eggs.

I finally got my ring! I am so flippin' excited! You may have read my earlier post about the stone and the ring. Well, it took several tries to find the right setting, but we finally figured it out.
My good friend Alba got me an emerald. I am amazed that she did so – the cost, the time, the worry, the getting it to me, wow. I can't thank her enough for her thoughtfulness and trouble. If it were cut glass, I couldn't love it more.
Recently, I took my little treasure to Johnson's Jeweler's off of Edward's Mill to have it set. Below are pictures of the setting I choose. I picked yellow gold because it seems truer for an emerald than white gold or platinum. I also liked the scroll detail on the sides – it seems reminiscent of Pre-Colombian art, fitting for my stone. Lastly, I like the partial bezel setting. It's safer for both me and the emerald.
Side View:
Top View: