Check out our suite in Las Vegas – amazing!!!
Cristin gave me this beautiful piece of handmade artwork for Christmas.
I just framed it today. It looks amazing, frankly, with the peeking yellow mat and hot pink aluminum frame. Go me, and go Cristin!
Thanks, boo!
Some recent pics of the boys, more Linus than Henry. Henry must be harder to photograph because he never stops moving. I realized in looking at the recent pictures on the camera that we take an awful lot of pictures of Linus with contraband in his mouth. So I included a pic of some of the items we've had to remove from circulation. There is also one picture of Henry and Hudson (and Mike) watching a fox in our back yard! Kudos to Henry for spotting the little fella out there.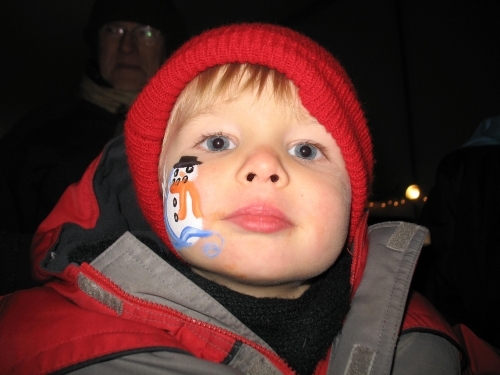 My little baby is three! And he's not a little baby anymore. He's a big boy. He is getting so long and losing more of his baby fat. His stomach still sticks out farther than his chest, thank goodness.
Here are his stats:
Weight: 30.8#
Height: 36.25″
How do I describe this kid? He's awesome. He is super smart, very sweet, obedient, funny, articulate, curious. His vocabulary is just amazing. He knows so many things, and asks tons of questions about those that he doesn't. He can count to 10 well, and recognizes both letters and numbers. He loves to read, and be read to. He loves to kick balls and "play soccer." He loves his little brother. He is a champ when it comes to Lego building. He has very imaginative play with his toys, and can play for an hour by himself when he's engrossed in his creative imagination. He also loves to help me cook.
He puts his dirty laundry in the laundry basket and hangs his towel up after his bath. He brushes his teeth. He clears his dishes after dinner and asks to be excused. He goes to sleep at night with his door open and stays in his room. He's really a good kid.
Except for all the times he isn't, of course. He has a tendency to be whiny, stubborn, intractable, destructive, and just plain bad. But the good definitely outshines the bad in this kid.
I love him so much. I enjoy being with him so much. He is really, really terrific and I adore him. Happy birthday, little man.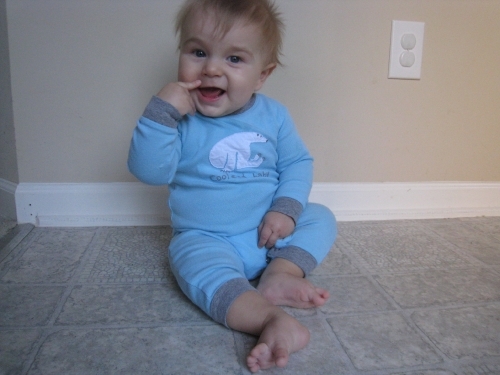 Linus has turned one, and what a year it has been! It is still a little surprising for Dave and I that there is not yet another surgical procedure or medical issue looming in the future. Aside from some waiting to determine if his hip dysplasia is corrected or not, he is as healthy as a kid could be.
Weight: 23# 3oz (60th %)
Height: 29.5″ (40th %)
Head: 18 1/8″ (40th %)
Linus is a very happy baby. As we see more signs of his personality, we are seeing a few more aspects of his emotional tempermant. He gets very angry when something he likes is taken away from him. He gets shy whenever new people are around, but in a flirty kind of way, not like he's really scared. He seems to be pretty attached to me at the moment. He loves books and putting objects into containers. He has a great time with all his toys.
His motor skills are really developing, especially for someone who was in a cast for three months. He's got an amazing throwing arm; he throws balls better than Henry does. And now, six weeks out of his cast, he is finally crawling on all fours!! (He has been dragging himself around, quite speedily, while he had the cast and since then.) He is also pulling up to stand on everything and crawling over everything. This morning he climbed up to the fifth stair for the first time ever!
His appetite is phenomenal; we have to cut him off because he doesn't know when to quit. But his taste buds are not so much like Henry's. He is a "meat and potatoes" kind of guy. He rejects almost all fruit and prefers crunchy, savory snacks. Since we don't always have hamburger casseroles waiting in the wings, sometimes he can be a challenge to feed! He still takes a bottle in the mornings and at night. He is quite a messy boy with a sippy cup.
He is a sweet, sweet little baby and I do love him so. I am so lucky to have him in my life.
I am so excited! Tomorrow Dave and I and our friends Mike and Nicole are all going to see Gordon Lightfoot in concert! I am a huge fan and I'm terribly excited to get to see him in concert. I was raised on Gordon Lightfoot. I know must of his music by heart. He is truly a folk god, and I just can't get over the fact that we're going to see him. This is so thrilling for me. I'm gonna cry buckets at the show, most likely.
Plus, he reminds me of my dad. Can you tell which is which?
And yes, they're both older now, with less hair, but these are my memories we're talking about here.
We tried to get a nice pic of all the kids on the couch. Didn't quite work out, but hilarious nonetheless!
Last weekend our good friends were kind enough to host a Free Linus party for our little spica cast escapee. It was terrific. The best part was that Nicole made up t-shirts for all the kids that said "Free Linus" and then she let them choose an assortment of iron-on patches to decorate their shirts. Linus's shirt just said "Free" on the front and "Watch out world" on the back. It was a terrific party and we had a blast! Thanks, everybody, for helping celebrate!
Today Linus had his cast removed! He had a spica cast for 11 weeks. We are so happy to be free of the cast. He will wear a hip abduction brace when sleeping only.
He is a super trooper and we are so proud of him.
Recent and older videos of Henry. He really is getting so big.