Did I mention that there were gifts? Oh my lordy, was there a pile of gifts!! I had originally thought that we wouldn't do gift-opening, but I'm glad we did. It was fun!
I hesitate to put pictures up of gifts, because I don't want anyone to feel slighted. However, there are some really cute gifts we received! Please know that if you gave us a gift, we love it and are very touched by your thoughtfulness. But onesies make better blog pics than crib sheets. There are also 184 photos of me opening gifts, so I'll see if I can keep it reasonable. 🙂
Surrounded by gifts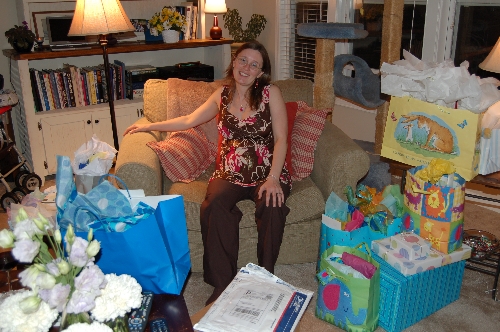 Surrounded by friends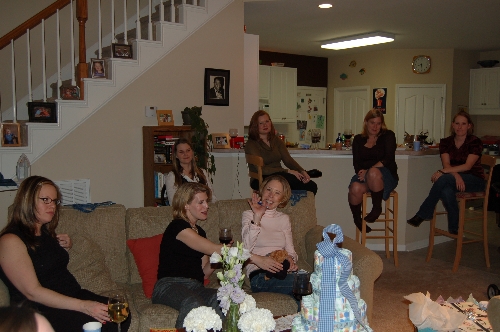 A common expression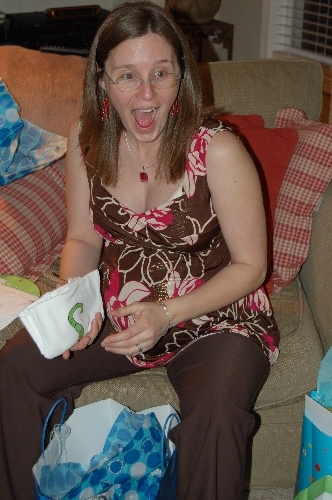 It's a long post, so I've cut it here – click below to read the entire post on a separate page.
Such a thoughtful onesie for our squirmy worm, thanks Jenny!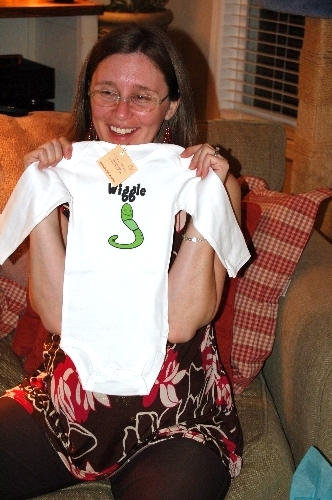 Mom liked playing with the gifts, too. This one is from our neighbor, Shau-ling.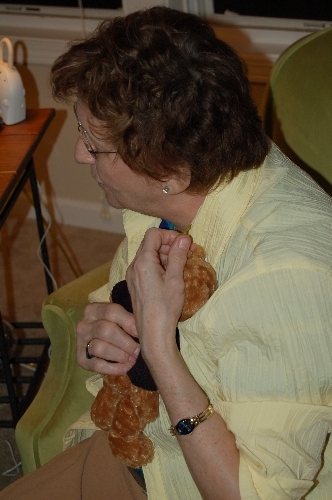 The Hooter Hider I wanted, courtesy of Ele.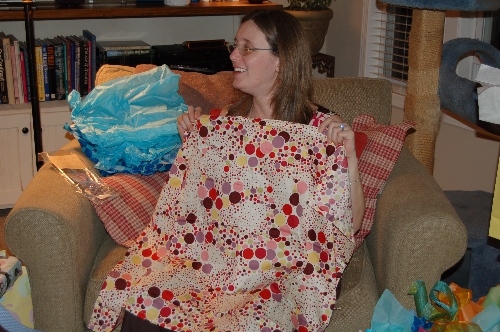 A great book from the "grandparents" William and Joyce. Plus a cute onesie that someone else owns!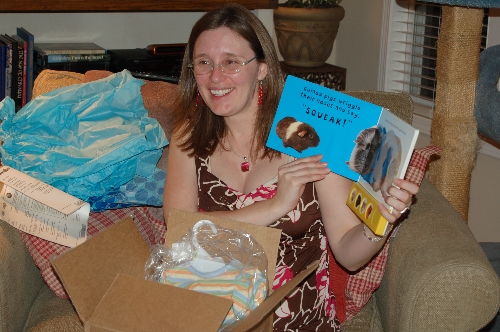 An outfit befitting a Cleveland Christmas, don't you think?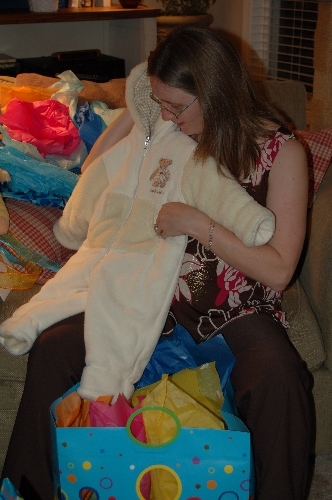 A sushi bib and some gorgeous Dr. Suess onesies, from Monica.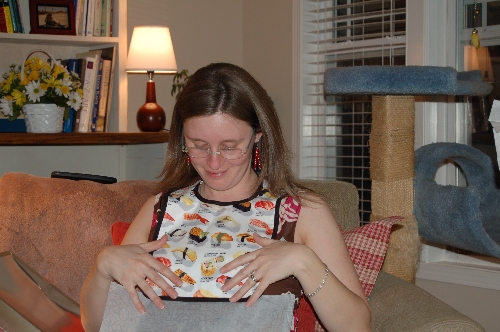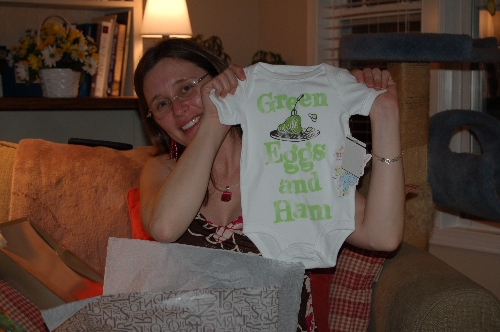 A gift I was anticipating from Cristin! See my look of satisfaction at having a wish-list item fulfilled?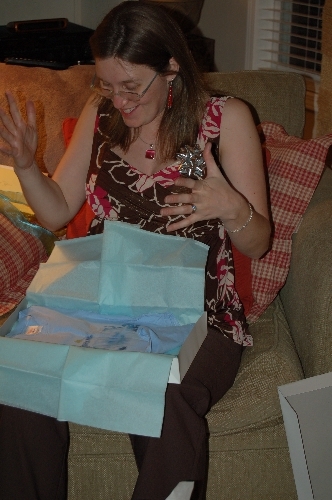 And one I was not anticipating at all. Can you discern my look of utter shock?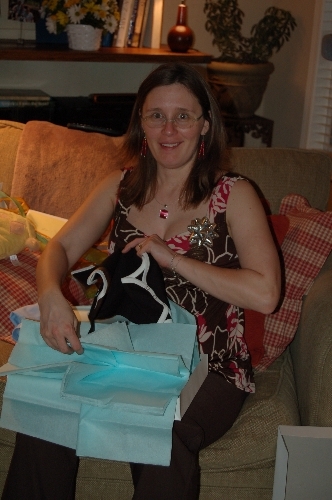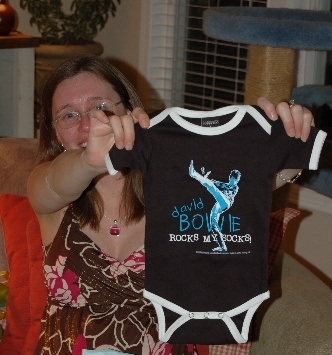 OK, so this item brought me to tears. Catch the play-by-play over at Cristin's blog.
Dave didn't want to register for the PeePee TeePees, but they're so cute, aren't they?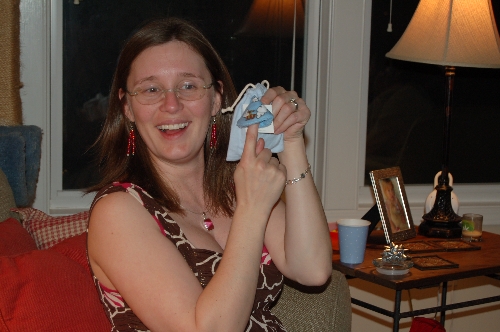 In addition to all those cute items above, we got gobs of other cute clothes, burp cloths, bath care items, nursing supplies, diapers, crib sheets and blankets. We are set!!
I was a bit overwhelmed by the end of it all.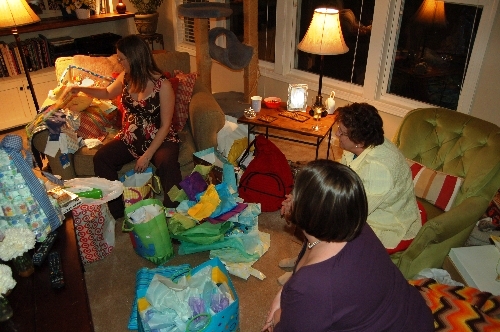 When Dave got home, there was one item left for him to open, from Mr. and Mrs. T.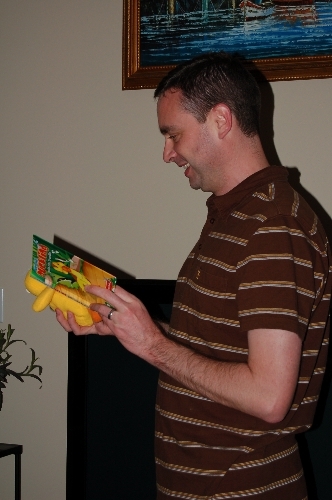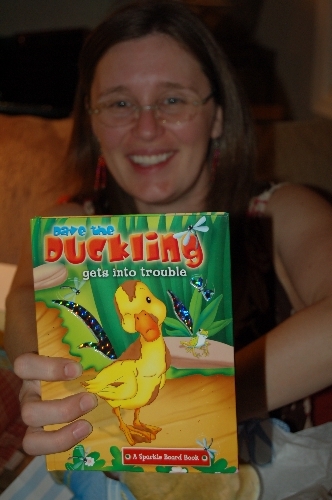 Oh, one last thing. The crib, from Granma, had still not arrived by the shower so I made a makeshift demo crib. Aren't I clever?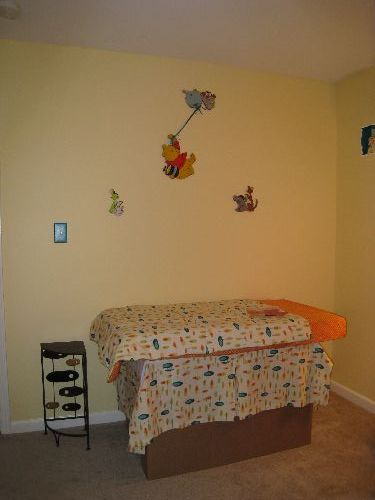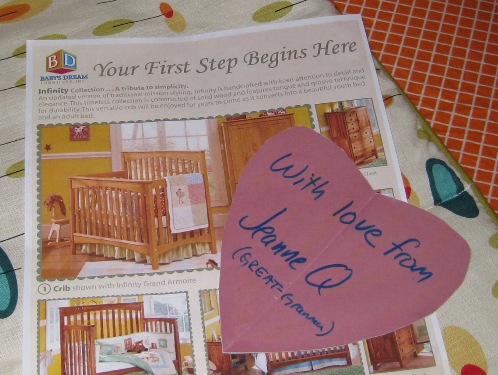 Did I keep it reasonable? Probably not, but it's my blog!
Many, many thanks to Cristin, without whom we'd have no documentation of this fabulous event. You can see all the pictures here.