This week I finally tackled the big project I'd been putting off – cleaning up my closet. I had taken bags of clothes into the attic as I grew out of them during my pregnancy, and I wanted to reintegrate them back into my closet. I also wanted to purge pregnancy stuff that I was done with and purge "clubbing clothes" that I didn't think I'd wear again now that I'm a mom. Purging the clubbing clothes isn't a huge hit to the budget as they're all cheap skimpy tops picked up at Rave and Deb. When I want to go clubbing again, I'll replace them with hot tops from a grown-up store.
Here's the midst of the chaos. The bathtub was even filled with clothes.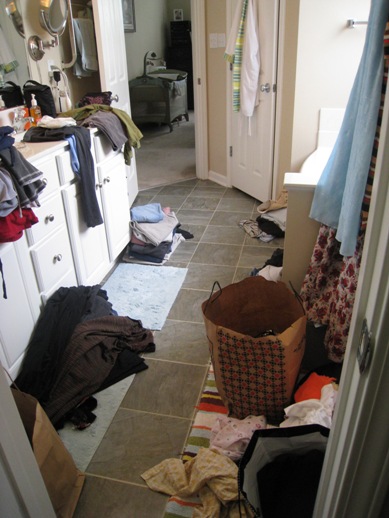 Anyway, it turns out that I have a ton of clothes!! I was so happy to discover that I own lots of fabulous, cute clothes. What's more, I fit into nearly half of them! It's mostly the pants that are too small, so I still plan on getting a few pairs of nice fitting pants, but sweet hallelujah! There is a huge pile of stuff to give away, a small pile of stuff that I'll fit into relatively soon, and a slightly larger pile of stuff I'll fit into by the time Henry's one.
Here's the finished view (my stuff's on the left and bottom rails):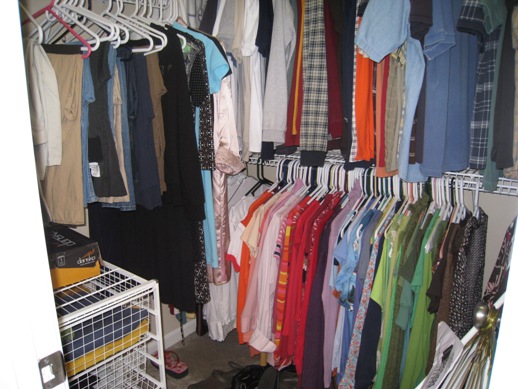 For the past two days, I've worn outfits that I'm happy to say I felt cute in. 🙂