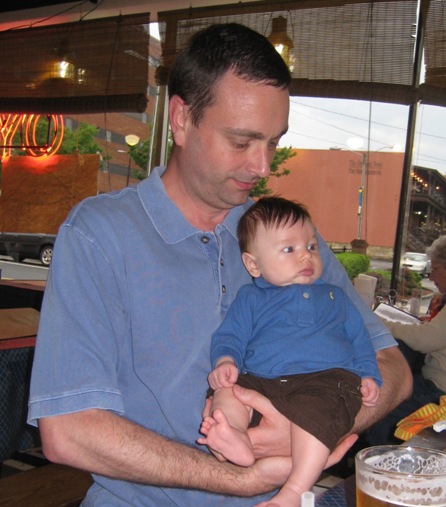 Henry is 12 weeks old already. Dave and I can hardly believe it. His three-month birthday will be next Monday. (Isn't that discrepancy funny?) He weighs around 12 pounds, is in size 2 diapers and has grown out of most of his 0-3 months clothes. He won't be in his 3-6 month clothes all that long, either!
It's been a great three months. I'm very happy that I've had this time to get to know the little man before shipping him off to daycare on a regular basis. I am going back to work in just 7 days! That will be quite a shocker, I'm sure.
Henry has grown so much over the last few weeks. He's nearly able to hold his head up all by himself, and he's so much more aware of his surroundings. He's into a pretty good daily groove, too. He gets up in a good mood in the mornings. He has breakfast, then playtime on his play mat with a few toys. Mommy or Daddy read a book with him. Eventually he gets sleepy and takes his first nap of the day. The rest of the day is a series of wake-feed-play-nap cycles, averaging about three hours apiece. Sometime between 8 and 9 PM he gets his nighttime feeding, followed by a relaxing bath and then beddy-bye by 10 o'clock. Overnight, he typically gets up once for a feeding.
Unfortunately, the past few days he's been cluster feeding during the day and getting up every 2-3 hours at night. We're calling this his 3-month growth spurt and hoping he's back to up once a night by next week. Please let it be so!!
Henry has started vocalizing fairly loudly. Here he is talking to Dave.