Dave and Amy made it home safely!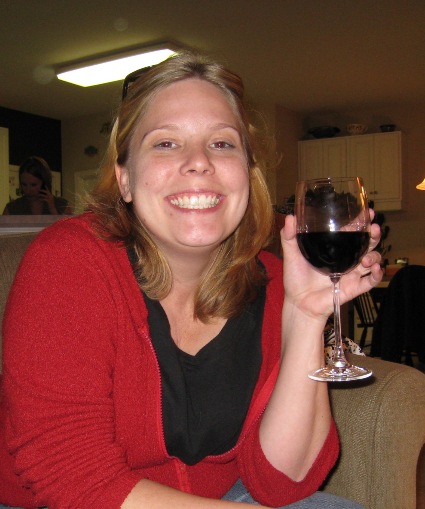 Ian plays around on the playmat.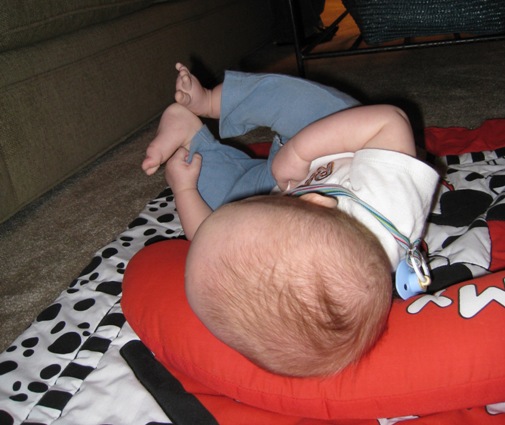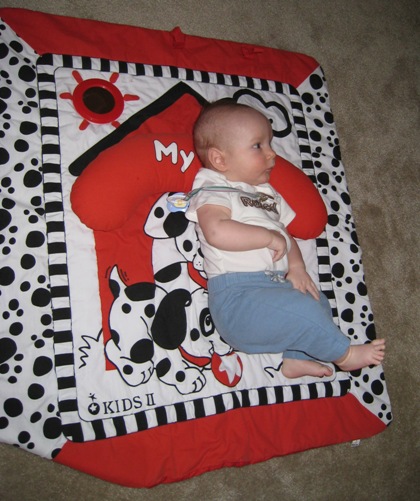 Guests have begun to arrive!
Lindsay and Ian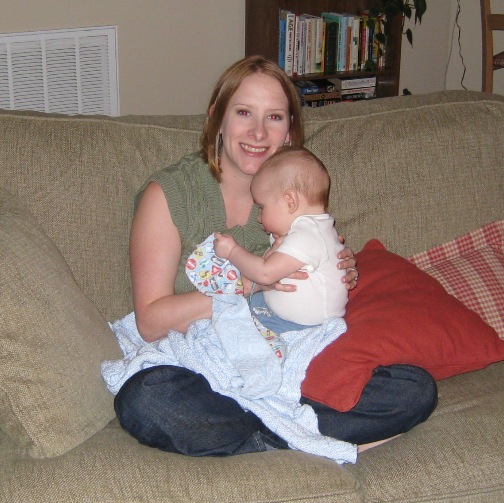 Monica relaxes with a glass of wine.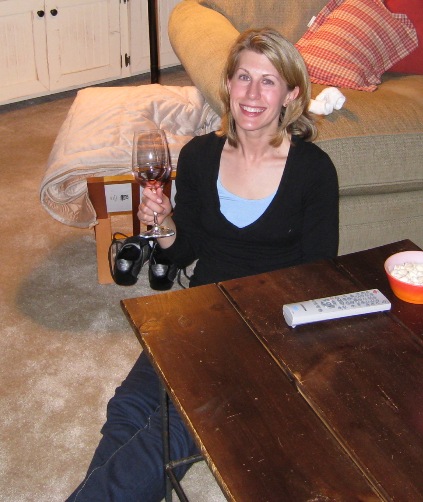 The cats were pretty freaked out by the baby. Later, they were bored.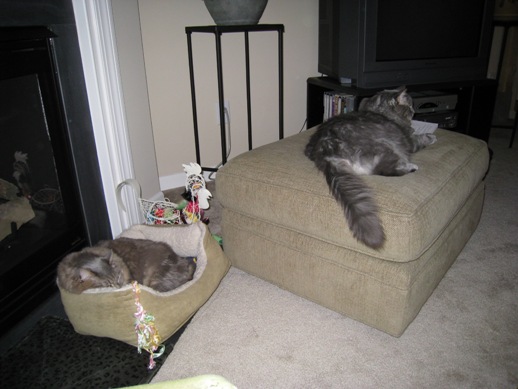 Dave's en route to the airport to pick up Amy. We're off to dinner after Amy and Dave get home!
For the holiday, we've got Dave's parents here and Granma as well. Yay for Mom and Gene, who drove up to Virginia Beach on Wednesday and brought Granma back!
Dad and I

Mom and I polish silver on Thursday morning

Granma and Mom indulge in some waffles for breakfast

It has been such a beautiful day out! The weather was perfect! We spent a few hours on the front porch enjoying the day.

The cats got to enjoy the lovely weather, as well, with a mega-dose of outdoor time on the front lawn, eating grass and chasing leaves in the wind.

Several hours later, we sat down to a lovely Thanksgiving day meal. We had turkey, stuffing, potatoes, green beans, cranberries and chopped salad.

After dinner, and then dessert, everyone collapsed in front of the TV.

What a great day!! Happy Turkey Day to everyone!!
Dave comes home today, and Amy arrives this evening. Ali will be here tomorrow. Super excited about having Dave back home and my fun company, as well.
What have I done to prepare for their arrival? The house is impeccable! The cleaners came this week and I've also done the following:
changed all the bed linens, washed and put up the old bed linens
changed all the towels, washed and put up the old towels
steam cleaned the carpets where the cats pooped
changed the litter boxes so they're fresh as a daisy
vacuumed the living room furniture
washed all the downstairs throw rugs
evacuated several mice from the garage
cleaned out my car, vacuumed it and washed the windows
Everything's looking very nice. Now I just hope the cats don't have a kegger this morning and ruin it all.
Sunday morning was breakfast and then a few hours by the pool before meeting Mom and Gene at Fishmongers for a big lunch. Yummy!
We had several rounds of beers, several pounds of shrimp, a dozen steamed oysters and a dozen steamed clams, a pound of steamed crab claws, some broccoli, limas and corn, and two orders of onion rings. Mom and Gene and I each had two oyster shooters, which were quite tasty. Vince couldn't be convinced to try one. 😉
Both Gene and Vince worked on this steamed oyster for 20 minute until they finally got the little cuss open. Gene said it was mighty tasty.
We got all cuted up for dinner tonight. Nah, not really. We always look this cute!
After the flea market, we had to hit the Flying Saucer. We met Kerri there and had beers, beers, beers, and some lunch.
Aren't Kerri and I cute?!!?!?

And then there was our waitress (in the picture below, on the left). While we were there, her dad and what appeared to be her grandparents showed up to sit in her section and have a quick beer (not pictured). After they left, she had a really funny conversation with us about how mortified she is that her family comes to visit her at work. She said that she knew they were coming, so she wore her "least slutty" outfit, the longest skirt she owned. There were many funny, funny parts to this conversation, but the funniest for me was when Dave said to her, "So, how does your dad feel about …" and she responded "My outfit?" I think he was going to ask her about her job, but she got right to the point and nailed the question all of us were wondering about. It was the high point of our Saucer visit – we laughed mightily.
She also hit up her dad for her semester's tuition of $400 because she did well in school the previous semester. As he left, her dad was waffling about whether and how he would pay her.
She's cute, and sweet, and putting herself through college, so if this is your Flying Saucer waitress, tip her well!!
Finally got home to visit with Eric and Amber after work. We chilled on the back porch, soaking up the sun and drinking.

Then dinner was a big grill-fest with Mom and Gene. We had tenderloins, white sweet potatoes, tomatoes, asparagus, marinated shrimp, and seviche. Along with lots of wine!! Our favorite was the BV Coastal Pinot Noir. YUM.
Yummy dinner at the Rockford, and drinks at the Hibernian afterwards.